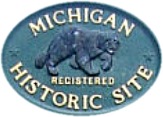 On December 8, 1838, the founders of St. Paul's Parish met and began the task of drafting the Articles of Organization for a "new Protestant society." The Parish of St. Paul's Church was officially established with the signing by twenty-two persons of the articles of Organization on January 12, 1839.
Its first house of worship, a small frame church completed at a cost of $2,500 by vestry member Lemuel S. House, was consecrated on October 20, 1840. By 1850 the group had outgrown its original home, and plans were begun to build a larger church.
Designed by Buffalo architect Calvin N. Otis, the new Romanesque Revival church was consecrated on January 11, 1853. Remodeled and expanded several times, it is one of the oldest Episcopal church structures in southern Michigan.