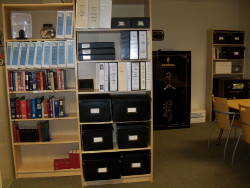 Welcome to the Ann S. Ball Resource Center
We house the historical collections of St. Paul's records and history.
Our Baptism, Confirmation and Marriage records are cross-referenced alphabetically by surnames. This has made look up very easy and accurate.
The historical records are a work in process and our goal is to digitize all our records for easier reference. In the mean time, we are working to categorize the historical documents we are fortunate enough to have in our collection.
We have several history booklets that have been written by parishioners and several years of documents that were put in scrapbooks by devoted members of the parish. We have a few historical pictures of the church building and the many changes to it throughout the years.
In 2010, we were given a large fire proof safe for our oldest records and pictures. That was a very welcomed gift and a great addition to our archive survival.
We are not only dedicated to the past but are very interested in preserving the present documents and photographs that will become historical. We recently participated in a celebration with documents and pictures of "Super Senior Sunday" that recognized the continued support and dedication of our congregation that is 80 years and over.
We welcome your inquiries and input, and our volunteers will do research for you concerning St Paul's church history and records.